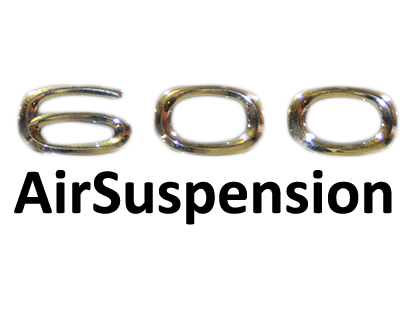 Mercedes Air Suspension Solutions
What we do
We are offering professional renovation for core parts of the Mercedes air suspension system from 1963 to the early 70s (Mercedes 600 from 1963 to1981), mainly level control valves, valve unit, anti-freeze device and pressure regulator for the 600 , W112 and W109. Other products are under development*.
Legendary Air Suspension
You are probably familiar with the Mercedes models W 109, W 112 or even the W 100 from this time.

These models were designed with a 'legendary' air suspension system, legendary in a positive way - the ride in such a car is superior compared to a steel spring system- but also legendary for the complications the owner might experience and finally legendary for its price.

The air suspension system technically was potentially the best suspension system on the market at the time it was designed. It was for sure the best-engineered system of its time. However also this well designed system needs rebuilding. Oh yes, you will notice when it is time. If your car drops within one week or so the time has come.
Maintenance and Repair
No doubt, the air suspension requires a higher degree of maintenance. And most possibly your system will work perfectly fine if it was brought back to spec. This means the failing components need to be repaired/ rebuilt and the system maintained according Mercedes specs.

The bad news is: The repair can be overwhelming and rebuilding the valves units by a qualified specialist does not come cheap. Engaged and experienced DIY people can repair some of the air suspension components but the renovation of the core components like the 3 level control valves, main valve, anti-freeze device and pressure regulator should be in the hands of the specialist. Too much knowledge, experience, specialized tools and precise instruments, testing equipment and parts are needed for rebuilding.

From my personal experience I can tell that you will enjoy every bit of a ride with a proper working Mercedes air suspension.
Our Products
We work with passion and our products are based on integrity and honesty. We share our knowledge with the community and we like collaborating. We use the best technology and craftsmanship available. Our CNC parts are 'Made in Germany' and we use high quality seal rings and materials. All repaired parts and units run through extensive testing. We are giving a 2-year warranty for air tightness and function within specification for units and parts. You are requested to sending your units for rebuilding before we start and we will rebuild the units within ca. 2-4 weeks of turn-around or upon request. Prices are based on the assumption that provided cores are repairable which typically is the case. We will keep our clients informed about the process and communicate if there is a problem.

We take a $200 core charge for LCV-VNC, Anti- Freeze Device and $250 for the Valve Unit , $500 for the Pressure Regulator in case we deliver up front.
What is done during Renovation?
Level control valve renovation:
disassembly, all parts cleaned, unit body cleaned (ultrasonic) and sealed , steel parts zinc plated/ chromate, seals exchanged, E, A and Stk replaced by new CNC machined and sealed parts, proper lubrication, adjustments according MB specification, pressure testing, new seals for air line fittings. VNB units receive new rubber/steel bearings.
Valve unit renovation:
disassembly, all parts cleaned, unit body cleaned ( ultrasonic) and sealed, steel parts will be zinc plated/ chromate, inner valves inspected, cleaned, damaged parts exchanged, proper lubrication, adjustments according MB spec., pressure testing, new seals for air line fittings. Pressure switch will be tested but is excluded from repair. In case the pressure switch is defective it can be replaced by a replacement switch for $100.
Anti-freeze device renovation:
disassembly, all parts cleaned, unit body cleaned ( ultrasonic), steel parts will be zinc plated/ chromate, inner valves inspected, cleaned, exchanged, adjustments according MB spec., pressure testing, lubrication, new seals. Exchange of paper air filter element included.
Pressure regulator (600 only) renovation:
disassembly, all parts cleaned, unit body cleaned (ultrasonic) and sealed, steel parts will be zinc plated/ chromate, inner valves inspected, cleaned, damaged parts exchanged, proper lubrication, adjustments according MB spec., intensive pressure testing, new seals for air line fittings.
Drain Valve (bottom of air tank) renovation:
disassembly , all parts cleaned, steel parts plated with chromate, NBR seal exchanged, pressure tested.
Check Valve (side of tank) renovation:
disassembly, all parts cleaned, steel parts plated with chromate, machined new valve, new NBR seal, pressure tested.
Manipulated Units: Very rarely I am finding 'manipulated' units. These are units that were previously "repaired" by non- professionals leading to partial destruction of inner parts. These are very difficult and time consuming to repair due to broken or missing parts. These parts need to be machined and the effort is obvious. Please understand that working on manipulated units will possibly cost some extra effort and in case I will communicate and discuss with the client. Thanks for your understanding.
Please do not hesitate and ask questions.
Parts under development
Pressure Test Adapter: This tool is for easy testing and monitoring air pressure in the support group (air tank) and filling the system with shop air.
This tool is for the professional Mercedes shop but also for Mercedes enthusiast.
This tool screws into the pressure switch port of the valve unit and allows for easy and safe pressure testing / monitoring with a standard AC gauge and 1/4" flare hose. With a long hose system pressure can be monitored during driving.
Articles
Related Videos
Related Images
Mercedes Air Suspension Repair Services
Pricing
Prices for rebuilding Mercedes Air Suspension W109 1965-72, W112 8/65-67, W100 1963-84 and W112-8/65
Units to be sent for rebuilding
Level Control Valve for W112, W109 and W100, complete rebuilding.
LF/VNC 3/1 [0-500-003-004],
LF/VNC 3/2 [0-500-003-005],
LF/VNC 4/3 [0-500-003-006].
These are the 3 later style units for front- right, front- left and rear.
$580 per unit
Level Control Valve for W112 , complete rebuilding.
LF/VNB 3B2 / 3A2, Front Left
LF/VNB 1B1/ 1A1, Front Right
LF/VNB 2B1 / 2A1, Rear
These are the 3 earlier style units, before 1965
$880 per unit
Main Valve for W112, W109 and W100, complete rebuilding, pressure switch excluded.
0-501-001-004,
0-501-001-005
$550 per unit
Anti-freeze device, rebuilding inner valves and all rubber seals, paper air filter change included.
000-431-14-15
$480 per unit
600 Pressure Regulator (W100), complete rebuilding and pressure adjustments.
0-481-040-001,
0-481-040-002
$1080 per unit
Drain Valve (bottom of air tank), complete renovation
LF/ VE [0-500-400-001, -002]
$120 per unit
Main Check Valve (engine side of air tank, complete renovation
LF/VB (0- 500- 100- 001, -002, -003)
$120 per unit
Air Filter Unit (part of anti freeze device) complete
renovation, paper air filter change included
$120 per unit
Air Compressor
additional parts/machining bronze bearing
new piston pin
$900 per unit
$120
$30
Customer is covering shipping, duties and customs clearing (for shipping outside the US)

Core charges for up front services:
$200 for LCV-VNC and Anti-Freeze Device core
$250 for the Valve Unit core
$500 for the Pressure Regulator core
Core charge will be refunded after receipt of core
Contact
Martin Werminghausen
Engineer
Professional Experience: Maybach/MTU/Mercedes in Germany
Registered Architect
Location:
141 South Great Rd.
Lincoln, MA 01773, USA
Email: 600AirSuspension@gmail.com
Reviews
Review by
Frank Knieriem, USA
Hello Martin,
I would like to thank you for the fantastic service I received from you,
dealing with my air suspension issues on my 300SEL 6.3. I have to say that
as a German, I work like working with German engineers.
My first conversation with you, I already knew finally someone who knows what
is going on. I have a 1971 300SEL 6.3 which I purchased in Tokyo. The car has
really low miles but also has been sitting still for 20 years.
Of course the air-suspension was shut. The car went up but at the same speed
dropped again when we turned off the engine. The airbags looked old, so we replaced
the 4 airbags first. No change. We cleaned the valves and tank, or so we thought.
After installing everything again the car decided to only go up in the front.
I found you through a video of another Mercedes shop on youtube. When I saw your
video, I knew already that you would be the only person to fix my problem with the 6.3
Sure enough; you did exactly what you promised. Fix my system. After you sent all the
parts back now 7 weeks ago, we cleaned the lines as you suggested and put everything
back together. Martin, except for a small mishap when we confused two lines, which you figured out for us it was a smooth process. You actually took the time to figure out
what we did wrong, while you were in Germany. The car is now up for 6 weeks. Any valve repair from now on, there will be nobody else for me. As a matter of fact you are working now on my Maserati Merak headlight valve. Who knew that
it's the same
switch as the one on a Mercedes 600.
Thank you for everything you did for me. Have a great 2017.
Best regards
Review by
Jay Manek, UK
W100 Grosser 600 No. 505
Posted - 05/05/2014
http://www.m-100.cc/forum/topic.asp?TOPIC_ID=8083&SearchTerms=air,suspension
I think Martin is well known here.
I have written this email to him today and I think it should be shared.
Dear Martin at 600 Air Suspension,
I would like to thank you sincerely for the absolutely outstanding service I received from you whilst dealing with my Air Suspension Troubles on my 600.
From the first email I was entirely convinced of your knowledge and attention to detail on this matter.
You helped me diagnose my problem remotely and then offered a solution at a price that I was happy with.
I am so afraid of dealing with sharks in the classic car restoration world, I know of many who have lost tens of thousands $ by entrusting their cars to the wrong people.
I was sent detailed step by step pictures and commentary of my new air valves being restored which you completed in a reasonable time frame.
The exchange service meant I didn't have to disassemble my car whilst you were preparing new valves for me. Also I did not have risk my valves getting lost with a courier!
I feel this level of customer service is lost nowadays in the world of fast and cheap service.
You have given me and my historic vehicle the level of expertise that would make even the original designers proud.
My car is now riding as it should and no longer sinks to the ground over night. As trivial as it may sound, It makes me so proud to walk into my garage and see my car still raised up as it should rather than slouched down looking sad.
You have not only gained a customer for life but a friend and I hope to meet you some day in Boston.
Now when are you going to start repairing the hydraulic parts!?
All the best.
Review by
Ruud, Netherlands W100:
Posted - 09/09/2014
http://www.m-100.cc/forum/topic.asp?TOPIC_ID=7895&whichpage=3
After reading most of the posts here, and watching Mr. Werminghausen on youtube, I thought it would be safe to send my air suspension valves to Mr Werminghausen. The old ones were not bad, but when the drain valve of my airtank was leaking (took me some time to figure that out), the front of my car would sink - most probably a leaking E-valve. I must say, Mr.Werminghausen sent me a set perfectly overhauled air valves. They look like new, but more importantly, there is no leak any more, and consequently no sinking. Also - at first I thought it was a matter of misperception - the steering and cornering of the car feels better. The difference is not big of course, but the car feels a bit more agile, and even a little bit more comfortable. Finally, communication was great, even though he lives in the US and I in Europe. Sending and receiving the parts was simple and on schedule. I know that there are more addresses for this, and probably good ones, but from my own experience I can highly recommend Mr Werminghausen. (And I didn't get a discount for writing this :-)
Review by
John Heller, Atlanta GA
The front air valves on my 1970 300SEL were leaking down completely in less than 24 hours. These valves had been rebuilt within the past 5 years but yet they were leaking down again. I sent my air valves to Martin for him to diagnose and rebuild. He quickly diagnosed the problem as an internal leak with the E-valve. Once diagnosed he entirely rebuilt both valves. He kept me informed via e-mail through the entire process of diagnosing and rebuilding. The turn around time was excellent and I had my air valves back within a week of him receiving them. The rebuilt valves were returned in beautiful condition and correctly adjusted to the proper Bosch/MB specifications. I would highly recommend Martin in rebuilding the Bosch/MB air valves.
Review by
Scott Melnick, CA
Hi Martin
Greetings from California!
Just wanted to send along a BIG THANK YOU for the help on my last 2 suspension problems. Both the 600 SWB and the 6.3.
Your expertise and quick repair of the Air-Valves really helped.
In the future, you'll be my "go-to" guy for air suspension problems and help.
Thanks again
Best Regards,
Scott Melnick
Auto Engineering/Classic Mercedes-Benz
Review by
Kari Voutilainen, Helsinki, Finland
Hi Martin
I have a MB 300 SEL 4,5 that suffered from a leaking air suspension. The problem kept getting worse all the time and in the end the car was on her belly overnight. We managed to point the leak to the left front valve levelling bar hindge. Luckily I found Mr Werminghausen and his 600 Airsuspension on Youtube and contacted him via email. Since my car was already scheduled at the workshop Mr Werminghausen generously proposed to send me one of his already reconditioned valves and refund me as soon as he received my old leaking unit.
We followed the instructions found online at 600airsuspension.com and the fix was a perfect success. My car is in the Finnish national museum-car-registry, so it was imperative to use original parts to solve the problem. Nothing could be more original than the reconditioned original part. I am very happy with the workmanship and service of Mr Werminghausen.
All other old valves seem to be air tight so far, but when the eventual leaks appear I know who to call. I'm also considering a complete overhaul of the entire system in advance, but I'm having hard time convincing my engineer to change something that is not broken - yet.
Kari Voutilainen
Helsinki, Finland
MB300 SEL 4,5 1972